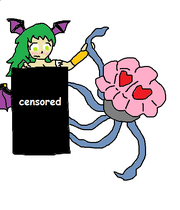 This page can be edited, fanservice can be posted in the fanservice catagory only, which is linked below this page. ill do a demonstration of how your suppose to do it, REMEBER if the photos are too crazy for the wiki, ill have to delete them. P.S when posting there photos be sure to write in the summery box of the photo NSFW. But fan art you add dosent have to be innapropriate, it could be funny, or cute (W-)
<username>:name of photo
then post the photo in the catagory, by adding a page, EASY!
but when adding it, you have to make a seperate page, this is all my fanservice
--->
Ad blocker interference detected!
Wikia is a free-to-use site that makes money from advertising. We have a modified experience for viewers using ad blockers

Wikia is not accessible if you've made further modifications. Remove the custom ad blocker rule(s) and the page will load as expected.